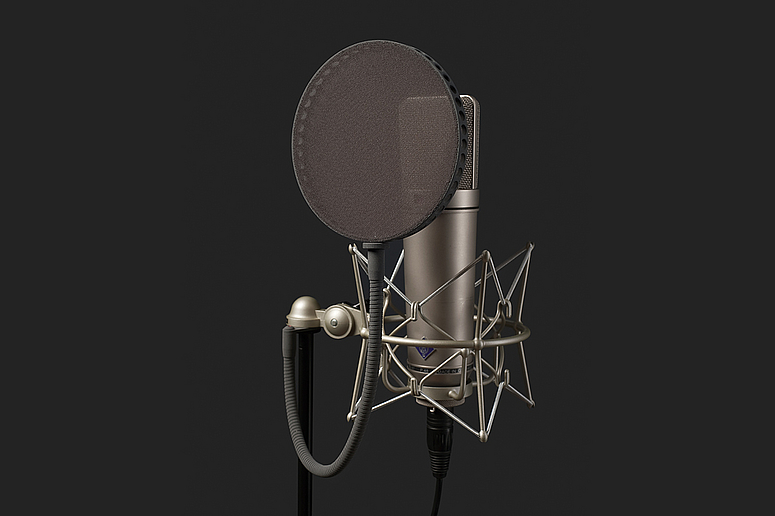 Pauly PR120 T30 Superscreen
Pop screens are very important studio tools. They eliminate disturbing pop sounds which are notably produced by articulating the consonant "p". Besides, wind noise caused by heavy emission of air from a bass drum, brass instruments and amp speakers can be effectively controlled. At the same time microphones are protected from possible damage by a strong airstream. This is essential for the especially sensitive exponents like ribbon microphones and condenser microphones with a metal membrane.
Echoschall has chosen the Pauly PR120-T30 Superscreen for their rental assortment from the widely offered popscreen models. Recently, we are also an authorized PaulyTon dealer and offer three versions of the popscreen and invidual parts.

The Pauly pop-filter is manufactured in Germany, has developed to a standard especially in high-class recording studios. It consists of two layers of wafer-thin fabric which are stretched in a certain distance on a warp resistant aluminium ring. The elaborate design and the high-quality finish provide for an optimum output without affecting the frequency response. In spite of the pop-filtering the human voice sounds natural and is not filtered in a "lifeless" way. For that reason, well-known microphone manufacturers like Schoeps and Brauner have also taken the Pauly filter into their product range.
The screen's diameter measures 120mm. The abbreviation of the product name T30 stands for a 30 cm long gooseneck so that the Pauly pop filter's flexibility enables effortless positioning on the microphone stand in front of almost every microphone type.
Per vocal microphone one Pauly pop-filter is free to hire.